LOOKING FOR NEW TEAM MEMBERS?
Place your company in the spotlight with a careers page.
A careers page or career website is the place where your potential future colleagues can learn more about your organization. Does the company suit them, and do they suit the company? With a careers page, you can excite your new team members before they have even entered your office!
Why should I choose a separate careers page?
We hear you thinking: "my corporate website looks fine. Why would I need a separate website for my recruitment?"
Whereas your corporate website focuses on acquiring new clients, the aim of a careers page is to inform, excite and convince your future colleagues. You can post job openings, pictures, interviews with employees, your core values and the history of the organisation. Aside from this, you can measure the different types of visitors to your website.
Request a quotation
The most prominent benefits
Share your job openings structurally and clearly
Tell your company's story and attract suitable candidates
Make your application process easier for candidates and for yourself
Distinguish yourself as an attractive employer
Link your careers page with an ATS-system and keep track of all the data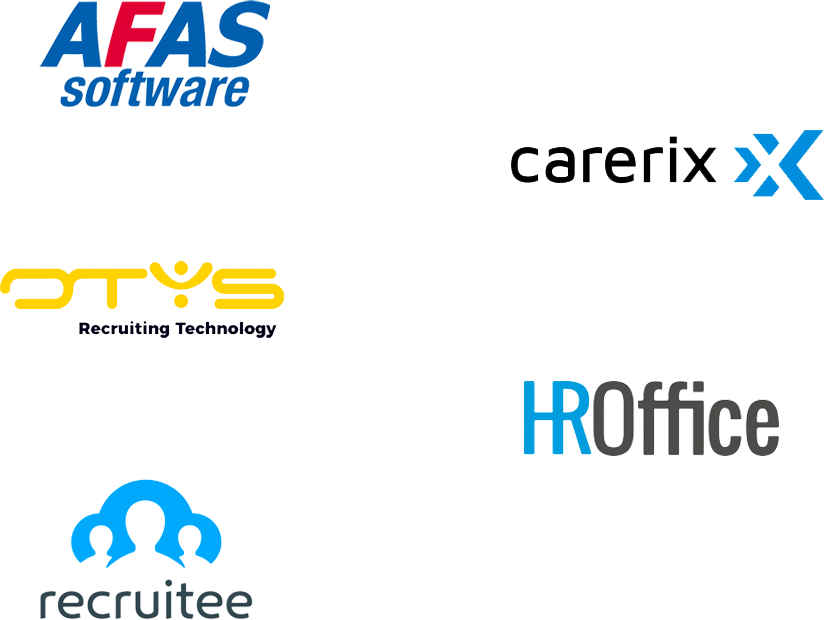 Link your careers page with an ATS-system
Your brand new careers page has another function: it can be linked to an Applicant Tracking System!
This enables you to easily track who applied to the job post and in which phase of the application process the candidate is situated. A very useful addition to your recruitment journey!
Want to know more about how a careers page can benefit your company?
A couple of our clients
These organisations already chose our approach. Are you ready to place the spotlight on your company?
Checklist for an efficient careers page
Information about your company and its culture
Your employees' stories
Where the office is located and what it looks like
Videos about your organisation
An overview of the job posts with a job alert
The employment conditions: financially, growing and learning opportunities, company outings…
The responsibilities connected to the vacancies
The application procedure, including start and end date and contact details
How your company implements corporal social responsibility
Social media accounts
Relevant blogs and podcasts